Watch the recording of the Exhibitor & Sponsor Demo Webinar held Thursday, October 1, 2020!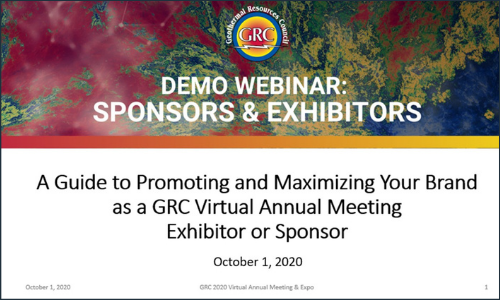 Webinar Details:
We know that an in-person meeting is preferred by most exhibitors and sponsors, but virtual conferences are part of our future and GRC is here to set you up for success! Watch the Sponsors & Exhibitors Demo Webinar to gain insight on the many benefits of becoming an exhibitor or sponsor this year. You'll also view a deep-dive demonstration into the digital exhibit hall platform GRC will be using for the 2020 Virtual Annual Meeting & Expo.
This 40-minute webinar is split into 3 parts and will cover everything you need to know so you can set up and run your virtual booth similarly to how you would in-person, if not better!
You'll learn how to:
Navigate the virtual exhibit hall and see things from the attendees' perspective

Design your booth with attention-grabbing content and graphics

Use the chat feature to your advantage

Maximize attendee engagement

Host video calls or sessions with attendees directly from your virtual booth

Promote your booth and participation to your community and social media followers

Understand post-meeting analytics
Who Should Watch:
The Sponsors & Exhibitors Demo Webinar is perfect for sponsors and exhibitors who have already registered for the GRC Virtual Annual Meeting & Expo, those who have not yet registered, and those with a general curiosity about everything we're doing.
Learn How to Maximize Your Brand Exposure! Watch Now.