Date/Time: October 21, 2020 at 10:45 AM PT
Details: The GRC is bringing industry leaders together from around the world at the 2020 Virtual Annual Meeting and Expo to discuss the successes of geothermal energy in 2020. We are offering the media free press passes to the entire virtual annual meeting, including the highly-anticipated Policy Committee Panel taking place on October 21, 2020, in a live virtual format. The panel features the following key players in the geothermal industry:
Nick Goodman, CEO of Cyrq Energy 

Jefferson Tester, Professor of Sustainable Energy Systems at Cornell University

Jonathan Weisgall, Vice President of Berkshire Hathaway Energy Company

Jay EGG, President of EGG Geothermal HVAC Sytems

Paul Thomsen, Vice President of Ormat Technologies
This terrific panel of leading industrialists and experts from across the breadth of the geothermal industry will present on "The Increasing Demand for Geothermal Throughout the U.S." Learn more details about the Policy Committee Panel and each panelist here.  
At the end, there will be a 30-minute Q&A session followed by an hour-long closed-door press conference with all five panelists and GRC's Executive Director, Will Pettitt who will discuss the future of GRC and its recently released rebranding announcement. Press will also have the option to schedule 1-2-1 interviews with each panelist. Please review the table below to see all available timeslots for each panelist. Each interview slot is for 15 minutes but you may request more time in advance if needed.
Available 1-2-1 Interview Times for Policy Committee Panelists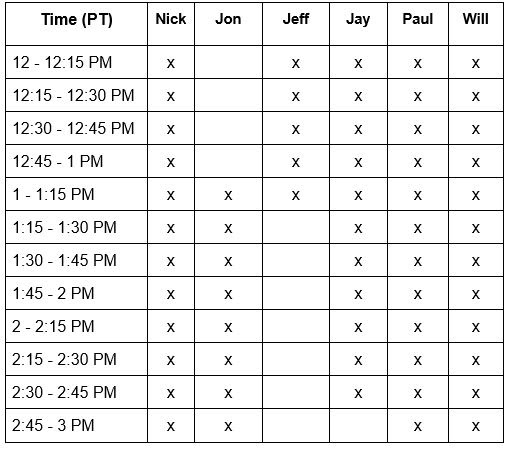 You can find our media kit here that includes information, materials, and messaging about the GRC 2020 Virtual Annual Meeting & Expo.
Media Contacts:
To Receive a Virtual Press Pass:
Serena Soterakopoulos, Meeting Coordinator
To Schedule an Interview with a Panelist(s):
Kristy Mahon, Marketing Associate